Do Nonprofit Marketing & Communications Really Matter?
September 24, 2023
Holiday donor retention rates got you down? Read this!
November 30, 2023
It's the most
wonderful
stressful time of the year! 
We know what you're thinking. If I had a dollar for every time someone said "this work is incredibly demanding, so make sure you're making time for self care"…. And, your response probably looked something like this…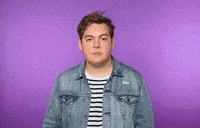 We get it, we really do. But the truth is, self care isn't just the buzz word of the year. It's the thing that stands in between your long, successful nonprofit career and complete and utter burnout.
More and more nonprofit professionals are experiencing burnout, and ideally we want to help you find the tools you can use to address your stress before you get to that point.  So, in an effort to help you navigate the holiday season, we want to share some resources that may help you identify the effects of stress and offer possible solutions..
Check out this article from Mayo Clinic that offers a "burnout checklist" to help take stock of just how much work stress might be impacting you. Don't panic if you check off more than one item on the list (we've all been there), the good news is that there are tons of actionable things you can do right now to start working on it.
If you're thinking "I don't need a checklist, I already know I'm in the burnout danger zone", check out the resources below that we recommend. We hope you will take a few moments out of your day to focus on your wellbeing. Seriously, it matters.
Take 5 minutes to breathe with this mindfulness meditation. P.S. There are TONS more meditation videos on YouTube, or you can check out an app like Calm that has lots of guided audio meditations.
Check out this article for 25 quick ways to reduce stress.
Here's a Forbes article detailing ways nonprofit leaders can promote wellbeing at work.
And, for some laughs (and truths), check out this guided meditation specifically for nonprofit professionals.
As always, we're rooting for you! Deep breaths… you got this!
– The Philanthropy Coach, LLC Team